Guided Scuba Tour
Whyalla Diving Services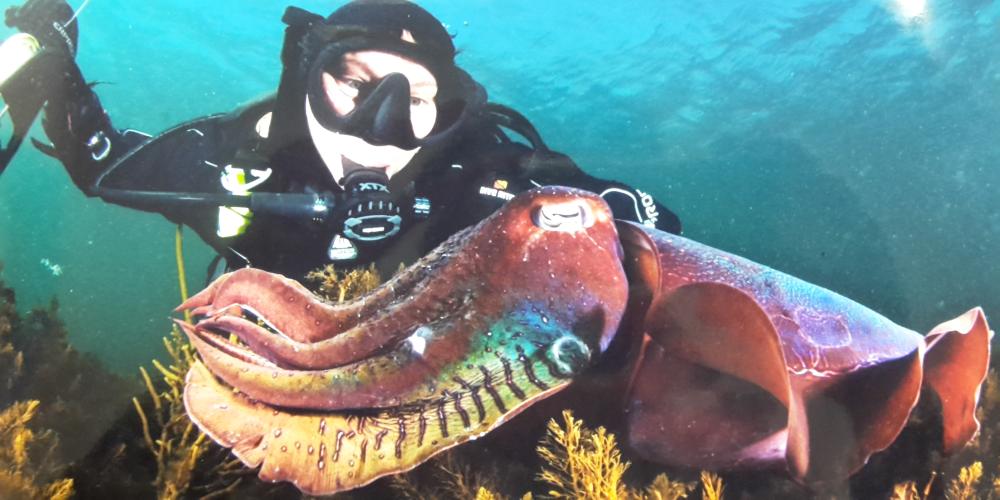 To ensure you are fit for diving please fill in
Diver_Medical_Participant_Questionnaire.
Please remember to bring divers certification or a copy of it for each diver. Without proof of license participation is not possible and Try Scuba Diving might be your only option to go Scuba.
3.5 hours | $210 pp
If you want to see those beautiful creatures in their element, if you want to see at eye level what is so special about Giant Australian Cuttlefish, then diving is your option. Get yourself right next to them and be astounded.
Minimum of 2 / Maximum 6 certified scuba divers per dive guide
*There is a surcharge of $120 if participant number is below minimum.
This option includes a complete set of equipment
bodyliner

5 or 7mm wetsuit (which ever fits you best)

boots

gloves (please remember to cut/file your nails as long/sharp nails will damage our gloves)

hooded vest

mask and snorkel

fins

BCD

Regulator

1 Air Filled Scuba Cylinder

Weights
Briefing on everything cuttlefish and safe snorkelling
a guide that gives you all the attention and safety you need
*allocated guide time is 4 hours
*all guides are trained dive masters / instructors with additional oxygen and first aid training
Guide transfer to the dive site

*since our guides often stay at the site for another dive or snorkel session we will not be able to supply your transport to the site
Tour description

Meet at the dive shop at the allocated time and bring your swimmers. Upon your arrival we check your dive certification and fill in necessary paperwork. Please ensure you are fit to dive.

Assembly of all necessary dive equipment and pre dive checks of all gear.

Change into a body liner, wetsuit, and boots and fit into all other necessary diving equipment (e.g., hooded vest, gloves, mask, snorkel, fins, BCD and weights) before loading the truck.

30min drive to dive site at Point Lowly (Use your own car for independency. Keep your wetsuit on while driving.) You will receive a map.

Detailed cuttlefish briefing and dive briefing by your dive guide

In water dive tour to see the Giant Cuttlefish (max in water time of the guide is 75min or 2 short dives of 40min each)

Changing into warm clothing at the dive site. Change room and toilets available at Fence line and Point Lowly Marina.
PLEASE ENSURE YOU BRING YOUR DIVE CERTIFICATION or a copy of it!
*Minimum of 2 scuba divers
Booking Policy
Bookings close 1 day before the session starts.
Whyalla Diving Services
33B Playford Ave, 5600 Whyalla, South Australia
May - August (cuttlefish season)
Mon to Fri | 9am - 5pm
Sat & Sun | 8am - 5pm
Sep - April
Mon, Fr & Sat | 1pm - 5pm
phone 0419 174 799
*during shop times
email whyalladiveshop@gmail.com
Contact Whyalla Diving Services