Try Scuba Diving
Whyalla Diving Services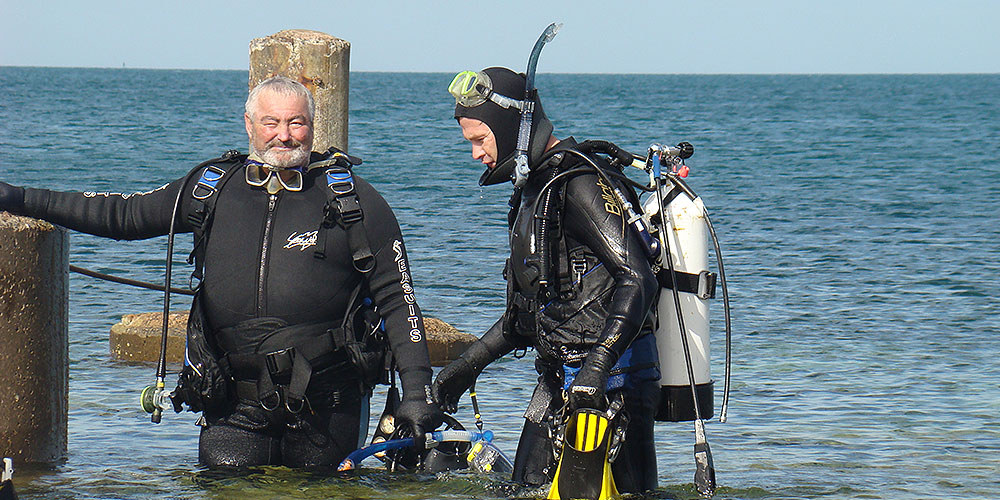 Scuba Dive for the first time and see Cuttlefish eye to eye
If you always wanted to know what it feels like to breathe underwater, then this is for you.
4 hours | $250 pp

Come with us to see cuttlefish at eye level – no previous experience needed.
Minimum & Maximum of 2 people per dive instructor. 
*There is a surcharge of $120 if participant number is below minimum
To ensure you are fit for this tour please fill in Health Questionnaire and email filled in form to us.
You will have a 45min theory lesson at the dive shop. We equip you with all equipment necessary for a warm and comfortable dive. After a 30min drive to the dive site we get ready for some in-water skills before its time to see cuttlefish action.
Please supply your email and phone number so we can discuss meeting time and organise necessary paperwork.
This option includes a complete set of equipment
bodyliner

5 or 7mm wetsuit (which ever fits you best)

boots

gloves (please remember to cut/file your nails as long/sharp nails will damage our gloves)

hooded vest

mask and snorkel

fins

BCD

Regulator

Air Filled Scuba Cylinder

Weights
Tour description

Meet at the dive shop at the allocated time and bring your swimmers. Upon your arrival we finalize necessary paperwork.

Dive theory lesson in the shop explaining what to do and how it all works. Fitting and assembly of necessary dive equipment and pre dive checks.

Change into a body liner, wetsuit, and boots and fit into all other necessary diving equipment (e.g., hooded vest, gloves, mask, snorkel, fins, BCD and weights) before loading the truck.

30min drive to dive site at Point Lowly (Use your own car for independency. Keep your wetsuit on while driving.) You will receive a map.

Detailed cuttlefish briefing by your dive guide.In-water skills sets to practise how to scuba dive safely and subsequently dive off to see the amazing Giant Cuttlefish (max in water time of the guide is 60 minutes)

Changing into warm clothing at the dive site. Change room and toilets available at Fence line and Point Lowly Marina.
FYI: you can keep the rental snorkel equipment until the following day 4pm when it will be returned washed in clear water OR hand it back to your guide at the end of your tour and we will take care of it.
*Maximum of 2 Try Scuba Divers per guide
Booking Policy
Bookings close 1 day before the session starts.
Whyalla Diving Services
33B Playford Ave, 5600 Whyalla, South Australia
May - August (cuttlefish season)
Mon to Fri | 9am - 5pm
Sat & Sun | 8am - 5pm
Sep - April
Mon, Fr & Sat | 1pm - 5pm
phone 0419 174 799
*during shop times
email whyalladiveshop@gmail.com
Contact Whyalla Diving Services